The best CBD oil for anxiety and depression
CBD oil, also known as, Cannabidiol oil, is a compound found in the cannabis plant. Yes, you got that right! CBD oil comes from the same source as the ever-controversial marijuana. What is the difference between CBD and Marijuana, you ask? Let us go into that.
As everyone may know, marijuana is a forbidden substance due to its mind-altering effects. The said forbidden substance contains two compounds that are well-known: Tetrahydrocannabinol (THC) and Cannabidiol oil (CBD).
Before you point your fingers angrily at CBD, you must know that CBD is not the culprit for marijuana's psychoactive activity.
THC is the most active constituent in marijuana, and is responsible for the euphoric "high" that people, who take it by smoking cannabis plant or by cooking it for consumption, experience.
What about CBD?
The good news is, CBD is not at all mind-altering. In other words, it does not produce any changes in the normal state of a person's mind or behavior. However, it does show significant physiological effects on the body. To put simply, it has the great potential to have medical benefits.
Source of CBD Oil
How do people make sure that only CBD will be extracted from cannabis and not the highly active and greatly abundant compound of THC?
Well, majority of the CBD used for medical purposes are found in the hemp plants. Hemp plants are the least processed forms of the cannabis plant.
You see, many marijuana farmers have selectively bred cannabis plants until they came up with a generation of which that have a very high content of THC and other compounds. This is what we call the intensely euphoric marijuana. These are the kinds of "selectively" bred plants we stay away from.
Marijuana and hemp are two very different types of cannabis plants. The former is very high in THC content, while the latter is not. Thus, hemp plants make the extraction and isolation of CBD easier and faster.
Medicinal properties of CBD Oil
CBD oil is known to have several health benefits. Studies have shown that CBD oil has the capability to
Relieve pain and inflammation
Anti-cancer
Reduce Acne
Fight diabetes
Combat anxiety
Inflammation can cause quite a chain reaction of other diseases/disorders. Eliminate inflammation and you will greatly reduce the risks of acquiring cancer, acne, and/or diabetes. Most importantly, CBD oil can combat anxiety.
How CBD oil affects the body to relief anxiety
CBD is an example of a cannabinoid. The human body has receptors to which cannabinoids can attach to, so as to produce an effect/effects to the body. What you may not know is that the body actually produces its own cannabinoid compounds!
Here comes the vital part: the said receptors and biochemical machinery needed to produce these compounds are found within the parts of the brain that are known to control emotional behavior – anxiety, sleep, mood, stress, and such.
Administration of CBD sorts of encourages the body to produces more of its own cannabinoids and activates more receptors. This increases the number of cannabinoids that can attach to the receptors, causing a greater effect on the body.
CBD is said to lower the blood pressure and heart rate in response to stress.
If you may have noticed, anxiety causes your heart to flutter like a hummingbird's wings, making you feel frantic and uneasy. Helping your fast-beating heart go back to its normal rhythm significantly reduces panic and anxiety.
In other words, taking CBD greatly lessens the "fight or flight" response to both physical and mental stress.
Therefore, you will no longer have to feel the almost irresistible urge to just run away from the situation or face stressful conditions with violent tendencies. 
CBD administration can greatly help people with conditions of panic disorder, post-traumatic stress disorder, social anxiety disorder, general anxiety disorder, and obsessive-compulsive disorder.
Products Made From CBD Oil
Ready to use CBD oil comes in many forms. The most common of which is the pure CBD oil tinctures. These contain no additives or any other substances.
CBD oil can also come in the form of diluted liquid forms which usually come in spray bottles, made by mixing CBD oil with natural oil base substances or alcohol.
Some people prefer to drink CBD oil by way of CBD oil capsules as a form of vitamin/supplement for its convenience.
Lastly, CBD oil also may be consumed with a vaporizer. CBD vape oil is in liquid form that can be heated to produce steam that the user can inhale. This can be inhaled through a vaporizer, E-cigarette, or vape pen.
All these forms of application have their respective advantages and disadvantages.
Depending on your preference, you can choose which among these forms of CBD oil application best suit your comfort and needs. It is recommended to begin with capsules as it is easier to take and you won't have to deal with bitter taste from taking tinctures.
Credibility of CBD Oil
There are various studies that support the health benefits of CBD oil when it comes to anxiety. However, there are relatively few studies on the long-term effects of CBD oil application.
This is understandable, considering that CBD oil has only recently become popular in the world of science. Therefore, it would be best to take precautions when taking CBD oil. Better yet, work closely with your physician.
Many people in all walks of life experience anxiety in different ways. Most find it hard to sleep at night. Some have problems with their appetite. Others still, find it challenging to get through a situation in one piece.
Whatever the case, anxiety can wreak havoc to your life. All these can cause poor performance, poor health, and poor relationships.
In line with this, there are also many ways on how you can overcome anxiety – CBD oil is one of them.
You can give it a try, but put in mind that at the end of the day the only person who can fully overpower anxiety itself is none other than yourself.
Does cbd oil help depression and anxiety?
Multiple Studies are under way that have shown significant improvement in depression and anxiety symptoms. CBD oil has shown that it's naturally occurring ingredients aid the nervous system in healing itself and bringing your body and mind to a calm state.
If you are looking for an alternative to over the counter and prescription drugs I recommend you try these cbd products listed below.
Here Is A List Of The 6 Best CBD Oil Products From Trusted Companies
1. CBD Oil Capsules from Boulder Botanical & Biosciences
Boulder Botanicals From Colorado provides capsules that are easy to take and have a proprietary blend of full spectrum Phyto-Cannabinoid 25 mg per serving. I recommend them especially if it's your first time consuming cbd oil products.  BBB Labs only uses enhanced, USDA organic, non-synthetic Cannabidiol extracted from a specially grown rich medical hemp, which is cultivated in an organic environment without the use of harmful pesticides, herbicides, chemical fertilizers, or GMOs. 
Highly recommended! CLICK HERE TO LEARN MORE
2. CBDPure Hemp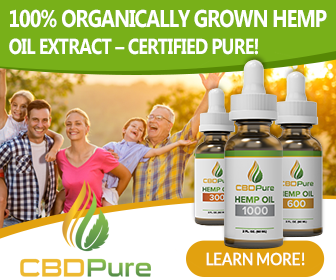 Natural and organic hemp oil from CBD Pure company is a great choice. Each batch of their products are backed by lab results a very important sign of brand that can be trusted and is transparent in what they put into there product. There product is also backed by a 90 day money back guarantee
CLICK HERE TO VIEW THEIR PRODUCTS
3. CBD Oil From Bluebird Botanicals
This cbd oil is by far one of the best and purest available. It is sold by one of the most reputable companies Bluebird Botanicals. High CBD, full spectrum cannabinoid hemp oil blends are made from high quality hemp ingredients and are tested regularly for their potency and purity.
4. CBD Healthcare Premium - Rick Simpson Hemp Oil line
CBD Real Scientific carries many premium brands including one of the biggest Endoca. These items have a very high percentage of CBD and include a powerful blend known as the Rick Simpson hemp oil. They work great to relieve pain and boost your mood. I highly recommend them!
5. Tasty Hemp CBD Vaporizer and Kits
Tasty Hemp CBD blend has got rave reviews on amazon and is made of the world's finest organic, full-spectrum hemp extract oil, gently infused with powerful ingredients fruit flavors for a pleasant taste and experience when used with the included vape pen. Every batch is lab tested by a third party for purity and potency. I highly recommend their products.
6. Hemp Oil Extract - Restore CALM
Relax Calm CBD oil has a light fresh taste, natural Chocolate Mint flavor - Organic Sunflower Seed and MCT Coconut Oils. Non-GMO, gluten free, vegan, top quality, naturally grown European hemp. Best clean crisp taste!
The CBD oil has been a seemingly effective substance for those who have used it and spreaded the word in accordance to their corresponding experiences.
Who knows? In the near future, there might be a larger opportunity of CBD oil for seizure and anxiety cure. Hopes are increasing, and that is a good thing indeed!
If you are looking for other quality cbd oil products try these:
Article Resources:
https://en.wikipedia.org/wiki/Cannabidiol
https://en.wikipedia.org/wiki/Hemp_oil

cbd effects on anxiety
cbd oil for anxiety
cbd oil dosage for pain
charlotte's web oil dosage
buy cbd for pain
cbd dosage for cancer
cbd dosage for seizures
cbd pills for anxiety
cbd for anxiety
does cbd help with anxiety
cbd oil for anxiety and depression
cbd oil and anxiety
how much cbd to take
cbd capsules dosage
cbd oil for seizures